2021 | OriginalPaper | Buchkapitel
3. Performance Management as a Part of the Management Control System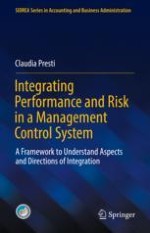 Erstes Kapitel lesen
Autor: Claudia Presti
Abstract
Performance and management control are strictly related, as there is no control if there is no measurement of the performance achieved—either in qualitative or quantitative (Thomson (Popular Lectures 1:73, 1883), in his physics studies, affirms thus in relation to the quantitative measurements: "[…]when you can measure what you are speaking about, and express it in numbers, you know something about it; but when you cannot measure it, when you cannot express it in numbers, your knowledge is of a meagre and unsatisfactory kind; it may be the beginning of knowledge, but you have scarcely, in your thoughts, advanced to the stage of science, whatever the matter may be.") terms—and if there is no consequent comparison with what was established as a goal. In the previous chapter, we explained how the management control system expanded its boundaries, its scope, and its areas of interests. This expansion led to an explosion of studies that analyze a better means of defining, measuring, and managing performances. Consequently, a new evolutionary stage in research on the management control system has started: the era of research on the performance management system.
This chapter starts with a deep reflection on the meaning of the term "performance." Then, the evolution that led to performance measurement becoming a performance management system is outlined by describing the most important outcome of the performance management system's evolution. Combining the reflections on the term "performance" and the evolution of the performance management system tools, Sect.
3.3
proposes a clarification of the eventual distinctions, interconnections, and overlaps between performance management, management control, and other relevant systems, highlighting the connections with Chap.
4
.