10.02.2020 | SPECIAL ISSUE: 2019 MODEGAT September 8-10, Bad Herrenalb, Germany | Ausgabe 2/2020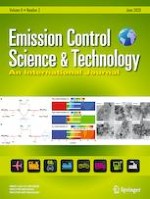 Performance of Broken Particulate Filters—a 1D and 3D Simulation Study
Zeitschrift:
Autoren:

T. Chittipotula, S. Kutschi, J. C. Wurzenberger
Wichtige Hinweise
Publisher's Note
Springer Nature remains neutral with regard to jurisdictional claims in published maps and institutional affiliations.
Abstract
The filtration efficiency of locally damaged particulate filters is investigated by means of 1D and 3D-CFD simulation. A model splits the filter into a regular and a damaged region. The regular part is modeled as a conventional wall flow filter and the damaged region is mimicked by a front plugged partial flow filter. The model equations are summarized, and the different types of boundary conditions are discussed. A method to combine 1D models of regular and damaged filter sections is presented. Two 1D models are combined using a flow apportioning parameter aiming at describing the full 3D filtration efficiency of the broken filter. Validation simulations of a front and rear plugged partial flow filter are performed. Four types of differently damaged filters are simulated in 1D and 3D-CFD at fifteen operating conditions representing different mass flows and initial soot loadings. The filtration efficiencies depending on the operating conditions are discussed. The filtration efficiencies calculated in 1D and 3D-CFD show relative deviations in a low percentage range. This comparison reveals that the presented flow apportioning method enables 1D simulations to assess 3D phenomena while keeping real-time computational efforts. The added value of 3D-CFD is presented by flow contours showing how the spatial positioning of damaged regions influences the flow non-uniformities in the inlet cone of the filter. Wall flow filter, partial flow filter, filter damage, filtration efficiency, 1D/3D aftertreatment simulation, flow apportioning parameter.