2013 | OriginalPaper | Buchkapitel
32. Performance of
Chenopodium quinoa

Under Salt Stress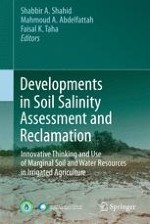 Erstes Kapitel lesen
Autoren: Meryem Brakez, Khalid El Brik, Salma Daoud, M. Cherif Harrouni
Verlag: Springer Netherlands
Abstract
Germination and seedling of
Chenopodium quinoa
were evaluated under different salinity concentrations in the culture medium in order to introduce it in Morocco as a crop for the reclamation of saline soils under saline irrigation.
C
.
quinoa
seeds were treated with aqueous solutions of 0, 75, 100, 125 and 150 mM of NaCl (corresponding respectively to 0, 15, 20, 25 and 30% seawater concentration). The germination percentage was strongly affected by salinity such that only 45% seeds were germinated at 150 mM NaCl compared to the control that germinated at the rate of 80%. Five-week-old seedlings were irrigated with four seawater (SW) dilutions (20, 30, 40 and 50%) in comparison with control plants of the same age irrigated with freshwater. Maximum biomass was registered in 20% SW treatment, and the threshold salinity tolerance was observed in 30% SW treatment. The root-to-shoot ratio went up with the increase of salinity in the culture medium, while the relative growth rates (RGR) decreased significantly. Ionic analysis of vegetative organs and seeds revealed that Na
+
and K
+
concentrations increased in all organs tested, while Ca
2 +
concentration decreased significantly. The concentration of Mg
2+
was not affected by the presence of salt in the culture medium.