18.07.2020 | ORIGINAL ARTICLE | Ausgabe 6/2020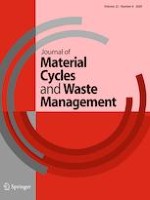 Performance of industrial sludge-amended bricks manufactured in conventional kilns
Zeitschrift:
Autoren:

S. M. Habib Ullah, Mehedi Hasan, Syed Ishtiaq Ahmad, Tanvir Ahmed
Wichtige Hinweise
Electronic supplementary material
Publisher's Note
Springer Nature remains neutral with regard to jurisdictional claims in published maps and institutional affiliations.
Abstract
Dyeing sludge (DS) from textile industries are toxic in nature and have the potential to become a serious environmental burden for Bangladesh due to lack of safe disposal options. The huge brick manufacturing industry of Bangladesh is a potential avenue for sludge disposal as well as stabilization of DS through incorporation in clay bricks. We performed experiments to assess the engineering properties (strength, water absorption, firing shrinkage, weight loss on ignition and bulk density) of sludge-amended clay bricks manufactured in conventional kilns as well as to determine the leaching potential of toxic heavy metals from such bricks. Results of the tests indicated that the sludge proportion is the key factor in determining the brick quality. The compressive strength of DS bricks reduced from 24.5 to 9.93 MPa when DS content increased from 10 to 50%. Water absorption, weight loss in ignition and total shrinkage varied between 11.4% and 25.3%, 10.8% and 24.7%, 11.6% to 15.3%, respectively, for the same DS% range. 10% DS-amended kiln-manufactured bricks exhibited engineering properties which were superior to similar bricks tested in lab-scale studies and conformed to Grade A and S bricks as per Bangladesh Standard (BDS 208). 10% DS bricks also showed minimal loss during drying and burning in the manufacturing process. The TCLP test results indicated that the leaching concentrations of As, Cr, Cd, Cu and Pb from DS-amended bricks are far below the USEPA standard limits. Results from this study indicate that textile dyeing sludge can be sustainably stabilized in clay bricks manufactured in traditional brick kilns in Bangladesh.