01.10.2013 | Ausgabe 4/2013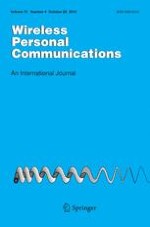 Performance of Layered Steered Space–Time Codes in Wireless Systems
Zeitschrift:
Autoren:

Ahmad S. Salim, Salam A. Zummo, Samir N. Al-Ghadhban
Wichtige Hinweise
The material in this paper was presented in part at the Personal, Indoor and Mobile Radio Communications (PIMRC) conference, Istanbul, Turkey, September 2010. In that work we have presented some of the results we had on the performance of LSSTC without giving much detail on their derivations, on the other hand, this paper gives the complete derivations of the error performance results and includes extensive comparisons between the analytical and the simulation results for the error performance, capacity and the VBLAST–LSSTC adaptive system. Another part of this paper was presented in part at the International Conference on Wireless Information Networks and Systems (WINSYS), Athens, Greece, July 2010. That work included some of the results on the capacity of an LSSTC system and how it outperforms VBLAST.
Abstract
Layered Steered Space–Time Codes (LSSTC) is a recently proposed multiple-input multiple-output (MIMO) system that combines the benefits of vertical Bell Labs space–time (VBLAST) scheme, space–time block codes (STBC) and beamforming. In this paper, we derive the error performance and capacity of a single-user LSSTC system. The analysis is general enough to any layer ordering and modulation schemes used. In addition, the derived analysis is general for any LSSTC structure in which layers may have different number of antenna arrays and may be assigned power according to any power allocation. Furthermore, we analytically investigate the tradeoff between the main parameters of the LSSTC system, i.e., diversity, multiplexing and beamforming. Our results give recursive expressions for the probability of error for LSSTC which showed nearly perfect match to the simulation results. Results have also revealed the possibility of designing an adaptive system in which it was shown that combining beamforming, STBC, and VBLAST has better performance than VBLAST at high SNR range.