01.01.2015 | Original | Ausgabe 1/2015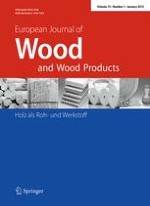 Performance of polyurethane coatings on acetylated and benzoylated rubberwood
Zeitschrift:
Autoren:

Krishna K. Pandey, Kavyashree Srinivas
Abstract
Performance of coatings on wood surfaces is adversely affected by swelling and shrinkage of wood due to moisture absorption and degradation of wood polymers by UV radiation. Chemical modification of cell wall polymers improves the dimensional stability of wood considerably. This work was undertaken with the aim to minimize weathering deteriorations by chemically modifying wood substrate prior to application of coating thereby improving weathering performance of coatings. UV resistance and weathering performance of rubberwood (
Hevea brasiliensis
) modified with acetic anhydride or benzoyl chloride and subsequently coated with polyurethane based wood coating has been evaluated. UV resistance of modified wood was assessed by exposing unmodified and modified wood specimens to a 1,000-Watt xenon arc light source in a weatherometer. Modified and unmodified wood specimens coated with commercially available polyurethane based transparent and opaque finishes were exposed to natural weathering for a period of 2 years. Analysis of colour changes and chemical deteriorations of weathered specimens showed rapid discolouration and lignin degradation of unmodified wood surfaces. Modified wood showed resistance to weathering as compared to unmodified wood. Results indicate that performance of coatings can be significantly improved by chemically modifying wood substrate with benzoyl chloride and acetic anhydride. The performance of opaque coating was better than transparent coating, presumably due to photodegradation of wood substrate in transparent coating.