2015 | OriginalPaper | Buchkapitel
Performance Studies of Anode Microbial Fuel Cells Using
Geobacter Sulfurreducens

as a Biocatalyst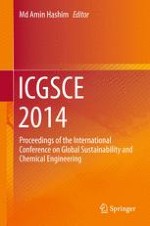 Erstes Kapitel lesen
Autoren: Noor Fazliani Shoparwe, Muhammad Hekarl Uzir, Suhairi Abdul Sata
Verlag: Springer Singapore
Abstract
Microbial fuel cells (MFC) is a bio-electrochemical device that converts organic substrate into electricity by electrogenic bacteria. In the MFC, anode compartment plays an important role in achieving high power density and thereby improving the cell performance. In this study,
Geobacter sulfurreducens
was used as a biocatalyst to catalyze the generation of electricity by using acetate as an oxidizing agent and sodium fumarate as a reducing agent. The polarization curve was determined after MFC system was reached at open circuit voltage (OCV) around 0.80 V and gives maximum power production of about 0.22 mW. The cyclic voltammetry (CV) method was performed in order to evaluate the oxidation and reduction processes in a batch of MFC before and after attachment of
Geobacter sulfurreducens
cells and it was proved by scanning electron microscope (SEM) images. Overall, this study provides a convenient way for evaluating the performance of MFC.