2020 | OriginalPaper | Buchkapitel
Peripheral Venipuncture in Elderly Patients: Is Near-Infrared Light Technology an Option to Avoid Vein Depletion?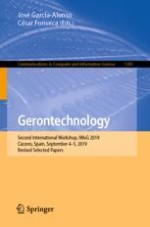 Erstes Kapitel lesen
Autoren: Paulo Santos-Costa, Liliana B. Sousa, Beatriz Serambeque, Rafael Bernardes, Pedro Parreira, Anabela Salgueiro-Oliveira, Margarida Vieira, João Graveto
Abstract
Background:
Peripheral venipuncture is the minimal invasive procedure most commonly performed in acute settings. However, several publications report that health professionals perform multiple puncture attempts until a successful catheterization or blood draw is achieved. Among the patients most affected by this reality are the elderly patients, who often display a number of factors that increase difficulty. In recent years, several recent technological aids, such as the Near-Infrared Light, have emerged in the medical devices market as potential facilitators of vein selection and puncture. However, while Near-Infrared Light devices are widely studied in pediatric settings, there are no known reviews of its use and applicability with elderly patients.
Methods:
A scoping review of the literature was conducted following the Joanna Briggs Institute method. Study relevance, data extraction, and synthesis were performed by two independent reviewers.
Results:
Three studies were included in this review. The use of NIR technology may improve the number of peripheral veins located in elderly patients, as well as reduce hematoma development and patient anxiety before, during and after the procedure. Moreover, one study briefly explored health professionals' usability and technology acceptance related outcomes.
Conclusions:
While peripheral venipuncture of elderly patients assisted by NIR devices is still an understudied area, the studies found indicated results favorable to its clinical application. However, such results should be carefully analyzed, since potential bias and lack of larger study samples may prevent the generalization of the results.