01.06.2015 | Research Paper | Ausgabe 6/2015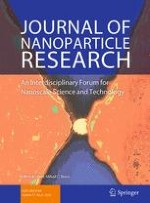 Permeation of platinum and rhodium nanoparticles through intact and damaged human skin
Zeitschrift:
Autoren:

Marcella Mauro, Matteo Crosera, Carlotta Bianco, Gianpiero Adami, Tiziano Montini, Paolo Fornasiero, Morana Jaganjac, Massimo Bovenzi, Francesca Larese Filon
Wichtige Hinweise
Marcella Mauro and Matteo Crosera have equally contributed to this work.
Abstract
The aim of the study was to evaluate percutaneous penetration of platinum and rhodium nanoparticles (PtNPs: 5.8 ± 0.9 nm, RhNPs: 5.3 ± 1.9 nm) through human skin. Salts compounds of these metals are sensitizers and some also carcinogenic agents. In vitro permeation experiments were performed using Franz diffusion cells with intact and damaged skin. PtNPs and RhNPs, stabilized with polyvinylpyrrolidone, were synthesized by reduction of Na2PtCl6 and RhCl3·3H2O respectively. Suspensions with a concentration of 2.0 g/L of PtNPs and RhNPs were dispersed separately in synthetic sweat at pH 4.5 and applied as donor phases to the outer surface of the skin for 24 h. Measurements of the content of the metals in the receiving solution and in the skin were performed subsequently. Rhodium skin permeation was demonstrated through damaged skin, with a permeation flux of 0.04 ± 0.04 μg cm−2 h−1 and a lag time of 7.9 ± 1.1 h, while no traces of platinum were found in receiving solutions. Platinum and rhodium skin-analysis showed significantly higher concentrations of the metals in damaged skin. Rh and Pt applied as NPs can penetrate the skin barrier and Rh can be found in receiving solutions. These experiments pointed out the need for skin contamination prevention, since even a minor injury to the skin barrier can significantly increase penetration.