2020 | OriginalPaper | Buchkapitel
Persistence Through Collaboration at Sea for Off-Shore and Coastal Operations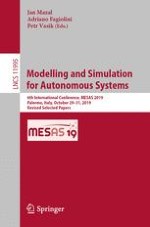 Erstes Kapitel lesen
Autoren: Agostino Bruzzone, Marina Massei, Kirill Sinelshchikov, Leonardo Baviera, Giuliano Fabbrini, Marco Gotelli, Josef Procházka, Libor Kutěj, Radomir Scurek
Abstract
Collaboration (Bruzzone et al.
2013a
,
b
,
c
,
d
,
e
,
f
) is often mentioned as an opportunity to develop new capabilities for autonomous systems; indeed this paper proposes a practical application where use this approach to enhance the autonomy of the systems during operations in coastal areas or around offshore platforms. The proposed case deals with developing a collaborative approach (Bruzzone et al.
2013a
,
b
,
c
,
d
,
e
,
f
) among an USV (Unmanned Surface Vehicle) with several AUV (Autonomous Underwater Vehicles) to guarantee persistent surveillance over a marine area (Shkurti et al.
2012
). Obviously, the proposed solution could be adopted also for defense and homeland security (Bruzzone et al.
2011a
,
b
,
2010
) as well as for archeological site protection in consistence with related cost analysis. The authors propose a technological solution as well as a simulation framework to validate and demonstrate the capabilities of this new approach as well as to quantify expected improvements.