2018 | OriginalPaper | Buchkapitel
2. 'Persuade the Intellectuals in the Hopes that Ultimately They Could Be Converted and Transmit My Ideas to the Public at Large'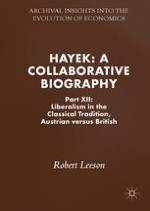 Erstes Kapitel lesen
Autor: Robert Leeson
Abstract
Caldwell and Montes (
2014a
, 52;
Review of Austrian Economics,
2014b
;
Review of Austrian Economics 28
: 261–309,
2015a
, 305) assert that they 'have presented
evidence
[emphasis added] that Hayek's ideas were little known in Chile in the 1970s. As such, it is very unlikely that they played a role in the creation of the 1980 Chilean Constitution. It also does not seem that those who invoked his name to defend their own positions correctly represented Hayek's actual views.' In the Chilean version of their paper, this was narrowed down to 'Pedro Ibáñez and Carlos Cáceres, who knew Hayek, did not necessarily correctly interpret his ideas' (
2015b
, 127).