01.11.2017 | Original Article | Ausgabe 21/2017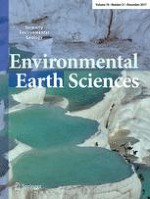 Petrophysical and mechanical properties of Euganean trachyte and implications for dimension stone decay and durability performance
Zeitschrift:
Autoren:

Luigi Germinario, Siegfried Siegesmund, Lara Maritan, Claudio Mazzoli
Abstract
Euganean trachyte is a subvolcanic porphyritic rock extracted in northern Italy with an age-old tradition of use as dimension stone, historically linked, in particular, to the fervent building activity brought by the Roman Empire and, later on, the Republic of Venice
Serenissima
. The results of a comprehensive petrophysical and mechanical characterization of Euganean trachyte from the most representative quarries are discussed here, involving the following properties: density, porosity, water absorption, capillary water uptake, hygroscopic water adsorption, hydric/hygric dilatation, water vapor diffusion, thermal expansion, and resistance to salt attack and abrasion. The different trachyte varieties, although belonging to the same quarry basin, exhibit a relatively wide array of technical performances, which are strongly dependent on pore volume, size, size distribution, shape, and degree of interconnection, controlling modes and rates of water transport and retention. Therefore, indications are provided for evaluating durability performance of the stone, with stress on water-driven weathering. Complementary information is finally given on the possible criteria followed in the antiquity for properly selecting the trachyte quarries to be exploited, and by a comparison with the properties of the most important trachytes extracted in Europe.