01.08.2013 | Original Contribution | Ausgabe 8/2013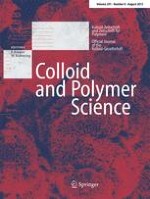 pH-responsive amphiphilic hybrid random-type copolymers of poly(acrylic acid) and poly(acrylate-POSS): synthesis by ATRP and self-assembly in aqueous solution
Zeitschrift:
Autoren:

Zhuo Wang, Beng H. Tan, Hazrat Hussain, Chaobin He
Wichtige Hinweise
Zhuo Wang and Beng H. Tan have made an equal contribution to this work.
Abstract
The synthesis and subsequent self-assembly of novel, random-type amphiphilic pH-responsive hybrid copolymers, having acrylic acid as pH-responsive hydrophilic and acrylate-polyhedral oligomeric silsesquioxane (POSS) as hydrophobic constituents are reported. The synthesis was carried out in two steps: first,
t
-butylacrylate and acrylate-POSS are copolymerized by ATRP, followed by the acid hydrolysis of
t
-butyl acrylate constituents of the synthesized poly(
t
-butylacrylate)-
co-
poly(acrylate-POSS) copolymers to achieve poly(acrylic acid)-
co
-poly(acrylate-POSS). It was found that POSS is a powerful hydrophobic unit. With very low POSS concentration in the copolymers, i.e., one POSS unit per 40 to 110 acrylic acid repeat units, the obtained amphiphilic hybrid copolymers could self-assemble in aqueous solution to form nanoaggregates, as revealed by the laser light scattering and fluorescence studies on the aqueous solutions of the obtained copolymers. The formation of hydrophobic core in the self-assembled aggregates is verified by the solubilization of pyrene (used as probe in fluorescence measurements) in aqueous solution of the copolymers. In addition to pH-dependent self-assembly behavior, it is also demonstrated that the particle size and aggregation number of the aggregates can be tuned simply by varying the composition of the copolymer, i.e., by changing the molar ratio of poly(acrylic acid) to poly(acrylate-POSS) in the copolymer. Finally, preliminary results on the influence of salt (NaCl) on the self-assembly of poly(acrylic acid)-
co
-poly(acrylate-POSS) in aqueous solution are also presented.