01.09.2012 | Original Paper | Ausgabe 5/2012 Open Access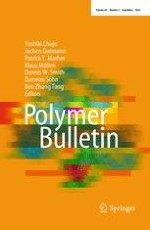 pH-responsive PMAA-
b

-PEG-

b

-PMAA triblock copolymer micelles for prednisone drug release and release kinetics
Zeitschrift:
Autoren:

Yan-Ling Luo, Wei Yu, Feng Xu
Abstract
pH-sensitive hydrophilic poly(methacrylic acid)-
b
-poly(ethylene glycol)-
b
-poly(methacrylic acid) (PMAA-
b
-PEG-
b
-PMAA) triblock copolymers were synthesized through atom transfer radical polymerization, and were characterized by FT-IR,
1
H NMR, and GPC. The as-synthesized polymers can self-assemble into stable and almost spherical nanomicelles in aqueous solution with an average size range from 18 to 89 nm, depending on the micellar concentrations, while they assumed well-defined spherical morphologies in PBS solutions. The micellization behavior in different media was investigated by a fluorescence spectroscopy technique, UV–Vis transmittance, and dynamic light scattering measurements. The critical micelle concentration and size of the micelles decrease with the increasing the length or molecular weights of PEG and PMAA chains. A pH-dependent phase transition behavior produces at a pH value of about 5.2, and the stable pH micellization behavior varied within a narrow pH range from ca. 4.8 to 7.4. These triblock copolymers are generally low cytotoxicity at a micellar concentration below 400 mg L
−1
, as revealed by the MTT assay. The prednisone release and release kinetics studies disclosed that these pH-sensitive polymeric micelles are good carriers for the drug delivery.