09.11.2017 | Ausgabe 4/2017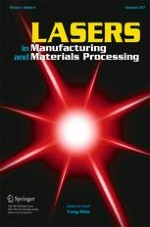 Phase Analysis of Laser Direct Etching and Water Assisted Laser Combined Etching of SiC Ceramics
Zeitschrift:
Autoren:

Genfu Yuan, Qidong Cong, Chen Zhang, Bingbing Xie
Wichtige Hinweise
Foundation item: National Natural Science Foundation of China 51175229
Abstract
In this study, to discover the etching mechanism of SiC ceramics under laser direct etching and water-jet assisted laser combined etching, the phenomena of substance change on the etched surface were investigated. Also, the rules of substance transfer in etching are discussed. The elemental content change and the phase change of the etching products on the etched surface were analyzed by energy dispersive spectroscopy (EDS) and X-ray diffraction (XRD), respectively. These studies showed a high amount of carbon black on the etched surface, because of the decomposition of SiC ceramics under the high-power-density laser irradiation. SiC decomposed to Si under the laser irradiation, and the subsequent chemical reaction of Si and O2 easily produced SiO2. The SiO2 on the etched surface melted and vaporized, whereas most of SiO2 was removed through splashing, changing the chemical composition of the etched surface. Following the water jet introduction, an increased amount of O existed on the combined etching surface, because the chemical reaction of SiC and H2O easily produced SiO2 under the high-power-density laser irradiation.