17.05.2018 | Ausgabe 7/2018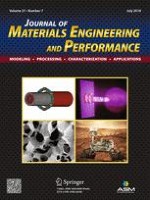 Phase Evolution and Mechanical Properties of AlCoCrFeNiSi

x

High-Entropy Alloys Synthesized by Mechanical Alloying and Spark Plasma Sintering
Zeitschrift:
Autoren:

Anil Kumar, Akhilesh Kumar Swarnakar, Manoj Chopkar
Abstract
In the current investigation, AlCoCrFeNiSi
x
(
x
 = 0, 0.3, 0.6 and 0.9 in atomic ratio) high-entropy alloy systems are prepared by mechanical alloying and subsequently consolidated by spark plasma sintering. The microstructural and mechanical properties were analyzed to understand the effect of Si addition in AlCoCrFeNi alloy. The x-ray diffraction analysis reveals the supersaturated solid solution of the body-centered cubic structure after 20 h of ball milling. However, the consolidation promotes the transformation of body-centered phases partially into the face-centered cubic structure and sigma phases. A recently proposed geometric model based on the atomic stress theory has been extended for the first time to classify single phase and multi-phases on the high-entropy alloys prepared by mechanical alloying and spark plasma sintering process. Improved microhardness and better wear resistance were achieved as the Si content increased from 0 to 0.9 in the present high-entropy alloy.