11.10.2017 | Topical Collection: Next Generation Superalloys and Beyond | Ausgabe 3/2018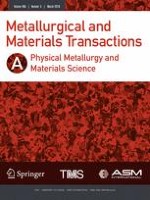 Phase Evolution in and Creep Properties of Nb-Rich Nb-Si-Cr Eutectics
Zeitschrift:
Autoren:

Florian Gang, Alexander Kauffmann, Martin Heilmaier
Wichtige Hinweise
Manuscript submitted on June 29, 2017.
Abstract
In this work, the Nb-rich ternary eutectic in the Nb-Si-Cr system has been experimentally determined to be Nb-10.9Si-28.4Cr (in at. pct). The eutectic is composed of three main phases: Nb solid solution (Nb
ss
), β-Cr
2
Nb, and Nb
9
(Si,Cr)
5
. The ternary eutectic microstructure remains stable for several hundred hours at a temperature up to 1473 K (1200 °C). At 1573 K (1300 °C) and above, the silicide phase Nb
9
(Si,Cr)
5
decomposes into α-Nb
5
Si
3
, Nb
ss
, and β-Cr
2
Nb. Under creep conditions at 1473 K (1200 °C), the alloy deforms by dislocation creep while the major creep resistance is provided by the silicide matrix. If the silicide phase is fragmented and, thus, its matrix character is destroyed by prior heat treatment [
e.g.,
at 1773 K (1500 °C) for 100 hours], creep is mainly controlled by the Laves phase β-Cr
2
Nb, resulting in increased minimum strain rates. Compared to state of the art Ni-based superalloys, the creep resistance of this three-phase eutectic alloy is significantly higher.