05.09.2017 | Ausgabe 11/2017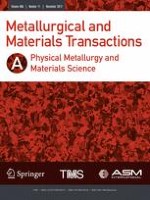 Phase Stability of Intermetallic Compound Ce3Al in Mechanical Milling
Zeitschrift:
Autoren:

Yan-ping Zhang, Hiroyuki Takeya, Kenji Sakurai
Wichtige Hinweise
Manuscript submitted May 3, 2017.
Abstract
For many years, cerium-aluminum systems have been extensively studied because of their unusual magnetic behavior. As the atomic radii of cerium and aluminum differ greatly from each other, a solid solution is not obtained because of the Hume-Rothery rule. Therefore, intermetallic compounds are usually studied, and structural stability is crucial for further discussion of their physical properties. The present article reports on high-energy ball milling of the intermetallic compound Ce3Al at room temperature. It has been found that non-equilibrium supersaturated Ce solid solution was formed during the milling. The solubility of aluminum was estimated as 5 to 13 at. pct from the peak shifts of the X-ray diffraction pattern. The structural changes in the initial stages of the milling were also studied.