13.05.2020 | Theoretical / Philosophical Paper | Ausgabe 4/2020 Open Access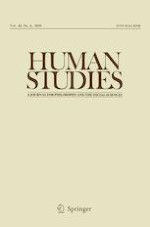 Phenomenology of Online Spaces: Interpreting Late Modern Spatialities
Zeitschrift:
Autor:

Viktor Berger
Wichtige Hinweise
Publisher's Note
Springer Nature remains neutral with regard to jurisdictional claims in published maps and institutional affiliations.
Sociology and (Online) Spaces
Sociological theories of space have provided in-depth analyses of how material spaces are created, represented, perceived and lived by actors. Notably, this interest in spatiality is not only due to the recent spatial turn (Soja
1989
). Classical theories had already scrutinized how social processes and actions project themselves into spatial relations and how the material forms that are created in this way affect social life (Simmel
1907
/2009; Durkheim
1899
/
1982
; Bourdieu
1996
; Giddens
1985
). In addition, questions concerning the perception, conception and classification of spaces emerged early on and continue to remain of importance (Durkheim and Mauss
1903
/
1963
; Shields
1991
). Besides the action theory approach (Löw
2001
/
2016
), there is a great deal of diversity in theoretical orientations, including the (post)structuralist (Foucault
1982
/
1984
), Marxist (Harvey
2001
; Lefebvre
1974
/
1991
) and actor-network theory accounts (Law
2002
) of social spaces. A common trait among these theories is their focus on the constitution and perception of what they regard as "real" spaces.
Meanwhile, everyday life is increasingly influenced by modern information and communication technologies (ICT), chief among them internet-based tools and applications. We use the internet for work and personal reasons, and an ever greater share of our communication activities takes place via the internet. Since no medium is neutral, ICTs necessarily shape everyday life (Ollinaho
2018
). Online spaces allow for a different kind of communication than face-to-face interactions, which affects both its style and content (Longhurst
2013
; Friesen
2014
). However, despite the importance of the online world for everyday life, theories of social spaces have so far not developed a deep interest in this social domain. This has to do with the fact that it is controversial whether online spaces are a subject of a theory of social spaces. In the following, I will argue that, indeed, sociological theories of space need to deal with online spaces. Online spaces, as understood here, are constituted when two or more people interact with each other using ICTs providing access to the internet. This is a purely formal definition – what matters is that the internet creates interactions between people who are not close to each other physically.
This paper will attempt to interpret two characteristic forms of online spaces. Without questioning the relevance of structural approaches, the paper will highlight the perspective of actors: how they create and perceive online spaces, and the relationship between online and physical space. In this, I will rely on the relational sociology of space as well as on phenomenological concepts of place and space (Löw, Waldenfels). While these theories offer useful points of reference, they also have significant shortcomings with regards to the online realm. The phenomenology of Alfred Schutz will therefore be deployed to overcome these theoretical problems. An updated Schutzian approach is a suitable complement to a relational theory of online spaces. Applying this theoretical framework, I will examine the spatiality of both video conversations and multiplayer online role-playing games. These spaces can be interpreted in the broader context of late modernity because they are typical forms of late modern spatial experience.
Relational Theories of Space
If actors are in presence of objects and living beings to which they can take a position, which they can manipulate and which they synthesize through perception, feelings and thoughts, a space is constituted for them. In this respect, it does not matter whether these objects and living beings are concrete or virtual. This is the source of mixed or hybrid spaces for the actors. To treat virtual objects as possible elements of spaces may seem counterintuitive, but what matters in the case of mixed spaces is how actors construct their spaces. And for them, as shown in the two case studies, the virtual or online elements are part of their spaces. This marks a departure from Löw's account of spaces, it is therefore necessary to expand the concepts of co-presence, spacing and synthesis.
The Phenomenology of Online "Others" and Online Presence
Despite overlaps between forms of co-presence and self-presence in terms of their content, these notions demonstrate the possibility of presence in online environments. Offline, actors perform acts of spacing and synthesis, and thus constitute spaces under circumstances of physical co-presence in everyday life; as a result, a sense of "here" arises that enables subjects to experience their bodies as objects of an encompassing space. However, the concept of virtual presence—along with its different forms and levels—suggests that spacing and synthesis, the very acts of constituting space, are not only possible in material spaces, but also in virtual environments. If actors have a sense of space while utilizing advanced means of communications, then a relational theory of space has to reconstruct the logic of how these online spaces are constituted.
Mediatization of the Life-World and Finite (Online) Provinces of Meaning
Spaces of Online Role-Playing Games and Video Telephony
The discussion of phenomenological approaches of the online world argued that the online realm is to a greater part an extension of everyday life, but it is also a reservoir for online provinces of meaning (illustrated by the case of MMORPGs). This section reconstructs the constitution of hybrid, virtual-material spaces from the perspective of actors. These mixed or linked spaces combine material with virtual objects through (virtual) spacings and synthesizing. The virtual elements of users' hybrid spaces may be provided by a finite province of meaning or represent the extension of everyday life. The first is exemplified by the case of MMORPGs and the second by video telephony. The spaces constituted by actors in these settings will be interpreted on the basis of two examples (World of Warcraft and Skype).
The fantasy realm of World of Warcraft (WoW), an example of MMORPGs, has its own mythology, specific types of beings and characters, a social hierarchy and a system of norms and values created by the players. Its logic and accent of reality differ from that of everyday reality: the relevance structure of the actors is different from the pragmatism of the natural attitude of everyday life, since alternative recipes of action, schemas and typifications have been formed in WoW. Thus, based on Schutz's terminology, WoW is a finite province of meaning: a self-referential, meaningful, yet social world into which actors can leap through a shift. They suspend the pragmatic attitude of everyday life to align with the reality accent of the game.
Players in multiplayer online role-playing sub-universes find themselves among consociated contemporaries and together constitute their specific spaces. The players perform acts of spacing in the physical space. They sit down on a couch or in an armchair, and move their hand and fingers on the mouse and keyboard. The technical equipment consists of multiple elements: gamer desk, PC or notebook, screen(s), gaming chair, headset, and so on. Previously, they have decided which material objects they want to be part of their physical gaming space (buying equipment, preferring one brand over another, building high-performance gaming setups). Choices made in this way are meaningful to individual players as well as to their communities (for example, a good setup is a source of prestige). Material objects arranged in a meaningful way constitute the space of the gaming room. Typical ways of arranging objects are: making it resemble to a cockpit, using multiple screens and accentuating a technology dominated atmosphere by adding colored led lights, special gaming speakers and WiFi routers or other accessories to the arrangement.
While, according to Schutz, games in physical settings also constitute finite provinces of meaning, MMORPGs (and among them WoW) have unique features which set them apart from "offline" games: players perceive each other as avatars, not as embodied persons but as consociated contemporaries; typifications are based on a limited set of perceptions referring only to the context of the online game; the various forms of virtual presence made possible by the game; the interconnectedness of spacings in the physical world and virtual spacings; the hybridity of synthesized spaces. Players feel various forms of virtual presence in the online realm and others appear to them as disembodied beings (apart from their avatars), therefore the set of signs perceived by players is limited to the context of the game. This is in stark contrast to games in physical settings where players perceive each other as consociates and perception is rife with information not related to the game (looks, expressions, attire, smells, etc.). In this sense, MMORPGs provide the pure game experience, because it is based on perceptions related solely to the game itself.
Of the three levels of self-experience, extended presence is the most likely to occur, since engaging with family members, colleagues and acquaintances can produce the feeling of being woven into biographical narratives. Core presence is also possible, provided that actors allocate their attention to the here and now of the interaction. However, proto presence is presumably less evident in video chats, given that actors are not present through a representation in a virtual world, which prevents the emergence of any unconscious and embodied feeling of virtual presence.
Conclusions
Acknowledgements
Open access funding provided by University of Pécs (PTE). The author would like to express his gratitude to Katalin Füzér, Dániel Havrancsik, and the two anonymous reviewers.
Open Access
This article is licensed under a Creative Commons Attribution 4.0 International License, which permits use, sharing, adaptation, distribution and reproduction in any medium or format, as long as you give appropriate credit to the original author(s) and the source, provide a link to the Creative Commons licence, and indicate if changes were made. The images or other third party material in this article are included in the article's Creative Commons licence, unless indicated otherwise in a credit line to the material. If material is not included in the article's Creative Commons licence and your intended use is not permitted by statutory regulation or exceeds the permitted use, you will need to obtain permission directly from the copyright holder. To view a copy of this licence, visit
http://​creativecommons.​org/​licenses/​by/​4.​0/​
.
Publisher's Note
Springer Nature remains neutral with regard to jurisdictional claims in published maps and institutional affiliations.