11.12.2015 | Ausgabe 4/2016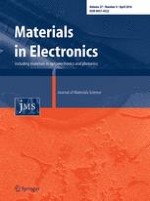 Phosphorus and nitrogen dual doped ordered mesoporous carbon with tunable pore size for supercapacitors
Autoren:

Deyi Zhang, Longyan Lei, Yonghua Shang
Wichtige Hinweise
Electronic supplementary material
The online version of this article (doi:
10.​1007/​s10854-015-4188-4
) contains supplementary material, which is available to authorized users.
Abstract
Heteroatom doping is a promising strategy to enhance the electrochemical properties of carbon materials. Here we demonstrate the successful synthesization of phosphorus and nitrogen dual doped ordered mesoporous carbon (NPOMC) with tunable pore size, high specific surface areas, huge pore volumes, and large pore diameters. The pore size of the reported materials can be tuned in the range from 5.9 to 11.0 nm while the specific surface areas varies from 1073 to 572 m2 g−1. Owing to the excellent textural properties, the reported NPOMC materials exhibit a superior specific capacitance and cycling performance than that of pristine CMK-3. The maximum specific capacitance of the NPOMC materials reaches 327 F g−1, which values is about 1.9 times higher than that of pristine CMK-3, and the maximum capacitance retention rate is near 100.0 % after 1000 cycles, demonstrating the reported materials could be used as a superior electrode materials for supercapacitors and other green energy storage application.