12.06.2019 | Ausgabe 5/2019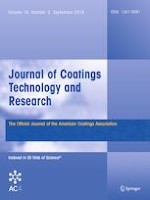 Phosphorus-containing reactive agent for UV-curable flame-retardant wood coating
Zeitschrift:
Autoren:

Saket Mulge, Siddhesh Mestry, Durva Naik, Shashank Mhaske
Wichtige Hinweise
Publisher's Note
Springer Nature remains neutral with regard to jurisdictional claims in published maps and institutional affiliations.
Abstract
An attempt to develop a phosphorus-based flame-retardant UV-curable agent (UV-RA) for coating application led to the synthesis of a reactive compound which can be used as crosslinker along with UV-curable epoxy acrylate oligomer to form a coating. UV-RA was characterized via FTIR, NMR, hydroxyl, and iodine values. Study based on the effects of varying amount of UV-RA incorporated in the formulation was investigated by checking thermal, mechanical, and flame-retardant properties. An enhancement in all the properties was observed with an increase in concentration of UV-RA and each coating containing UV-RA successfully portrayed flame-retardant properties. The highest loss on ignition (LOI) value obtained was 27 while the initial and final degradation temperatures increased along with the char yield. The mechanical properties did not vary much except for the low values for 20UV-RA.