01.02.2013 | Original Paper | Ausgabe 1/2013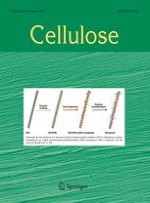 Photo-attaching functional polymers to cellulose fibers for the design of chemically modified paper
Zeitschrift:
Autoren:

Alexander Böhm, Melanie Gattermayer, Christian Trieb, Samuel Schabel, Dirk Fiedler, Frank Miletzky, Markus Biesalski
Wichtige Hinweise
Electronic supplementary material
Abstract
We introduce a novel approach for preparing polymer-modified and chemically microstructured paper substrates by a photo-chemical attachment of functional polymers to cellulose microfibers inside model filter papers. Poly(methyl methacrylate), PMMA copolymers, which carry a defined amount of photo-reactive benzophenone functional groups, are adsorbed to paper substrates from solution by a simple dip coating process, followed by covalent attachment of the physisorbed polymers through UV-light irradiation. Non-bound macromolecules can be removed from paper sheets by simple solvent extraction, and the resulting polymer-modified substrates were analysed with respect to chemical identity, attached polymer mass, and homogeneity of the polymer attachment. The amount of paper-attached polymers can be conveniently controlled in a wide range from a few mg/g cellulose fiber up to several tenth of mg/g cellulose fiber, by adjusting the polymer concentration in the coating solution. Polymers are being attached by photo-chemical means, and chemical micro patterns on paper can be designed by lithographical means. In first proof-of-concept studies, millimeter-scale channels were prepared that can be used to control fluid penetration by capillary actions. Because of the modularity in the design of photo-reactive polymers, a number of different chemically microstructured papers can be envisioned which may become potentially interesting in lab-on-paper devices.