2008 | OriginalPaper | Buchkapitel
27. Photoacoustic Characterization of Materials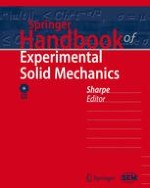 Erstes Kapitel lesen
Autor: Prof. Sridhar Krishnaswamy
Verlag: Springer US
Abstract
The basic principles of photoacoustic generation of ultrasonic waves and applications to materials characterization of solid structures are discussed in this chapter. Photoacoustic techniques are a subset of ultrasonic methods wherein stress waves are used to obtain information about structural and material properties. In photoacoustic techniques, the ultrasound is typically generated using lasers, thereby enabling noncontact nondestructive characterization of the material properties of structures. Photoacoustic techniques have found application over a wide range of length scales ranging from macrostructures to nanometer-sized thin films and coatings.
In this chapter, the basics of photoacoustics primarily as they relate to nondestructive characterization of solid materials are discussed. In Sect.
27.1
, the basics of stress waves in solids is outlined. In Sect.
27.2
, the process of photoacoustic generation is described. The major techniques of optical detection of ultrasound are then described in Sect.
27.3
. The final section of this chapter is then devoted to some representative recent applications of photoacoustic characterization of materials. The objective here is to describe the basic principles involved, and to provide illustrative applications which take specific advantage of some of the unique features of the technique.