26.03.2018 | Electronic materials | Ausgabe 13/2018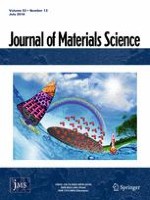 Photoactive multi-walled carbon nanotubes: synthesis and utilization of benzoin functional MWCNTs
Zeitschrift:
Autoren:

Neşe Kaynak, Ayşen Önen, Müfide Karahasanoğlu
Abstract
This study describes a facile method for the synthesis of functionalized multi-walled carbon nanotubes (MWCNTs) carrying photoactive group. The synthesis of MWCNTs-based macro
-
photoinitiator was achieved by the esterification reaction between benzoin moiety and acyl chloride functional MWCNTs. Synthesized MWCNT-based photoinitiator (MWCNTs–benzoin) was used in the photopolymerization of styrene to yield polystyrene (PS)-grafted MWCNTs (MWCNTs–PS) by "grafting from" method. The efficiency of MWCNTs–benzoin photoinitiator was determined by evaluating the effect of initiator to monomer ratio and reaction period on photopolymerization of styrene. Fourier transform infrared spectroscopy, Raman and X-ray photoelectron spectroscopy analyses confirmed the covalent bonding for functionalization of MWCNTs and determined the final structures. Thermogravimetric analysis, gel permeation chromatography and UV spectroscopy were performed to evaluate the grafting efficiency of PS that covalently grafted to MWCNTs, and high efficiency of MWCNTs–benzoin as a macro-photoinitiator was also confirmed. Scanning electron microscopy was used to determine the surface morphology of functionalized MWCNTs and MWCNTs–PS.