28.05.2019 | Review | Ausgabe 19/2019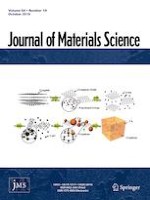 Photocatalytic disinfection efficiency of 2D structure graphitic carbon nitride-based nanocomposites: a review
Zeitschrift:
Autoren:

Pramila Murugesan, J. A. Moses, C. Anandharamakrishnan
Wichtige Hinweise
Publisher's Note
Springer Nature remains neutral with regard to jurisdictional claims in published maps and institutional affiliations.
Abstract
Nanostructured carbon-based photocatalysts have gained attention in photocatalytic disinfection of microbial species. With distinctive features of possessing appropriate electronic band gap structure and high chemical and thermal stability, metal-free polymeric 2D stacked structure graphitic carbon nitride (g-C3N4) is an important photocatalytic material for environmental and energy applications. Besides, it has the potential for inactivation of harmful pathogens. Disinfection of microbial species is mainly ascribed to the formation of reactive oxidative species. Further, surface modification of g-C3N4 can remarkably improves photocatalytic disinfection efficiency. In this review, we have discussed the recent advances in photocatalytic disinfection using g-C3N4-based nanocomposites. An overview of metal-free nanostructure g-C3N4, metal (anions) and nonmetal (cations)-doped g-C3N4 and g-C3N4 hybridized with low band gap semiconductor is also presented. Moreover, we have emphasized on the photocatalytic disinfection mechanism associated with g-C3N4-modified composites. Nitrogen-rich g-C3N4 polymeric material can serve as an alternative to metal oxide (TiO2 and ZnO) photocatalysts for photocatalytic disinfection technology. Other applications such as CO2 photoreduction, H2 generation, organic pollutant degradation, and sensing using g-C3N4-based nanocomposites are also summarized.