01.01.2014 | Original Contribution | Ausgabe 1/2014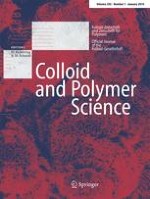 Photocatalytic performance of silver-modified TiO2 embedded in poly(ethyl-acrylate-co-methyl metacrylate) matrix
Zeitschrift:
Autoren:

Ágnes Veres, Judit Ménesi, Ádám Juhász, Ottó Berkesi, Nóra Ábrahám, Gabriella Bohus, Albert Oszkó, Gábor Pótári, Norbert Buzás, László Janovák, Imre Dékány
Wichtige Hinweise
Electronic supplementary material
The online version of this article (doi:
10.​1007/​s00396-013-3063-1
) contains supplementary material, which is available to authorized users.
Abstract
The plasmonic Ag-TiO
2
(with 0.5 wt% Ag) photocatalyst was prepared on P25 TiO
2
surface. The presence of AgNPs on the titania was indicated by the UV–vis spectrum, which showed a plasmonic absorbance band in the visible range (
λ
max
 = 455 nm). XPS measurements suggested that Ag was in metallic (Ag) and in oxide forms on TiO
2
. Ag-TiO
2
photocatalyst and TiO
2
were embedded in [poly(ethyl acrylate-co-methyl methacrylate; p(EA-co-MMA)] copolymer to attain mechanically stable, photocatalytically active nanocomposite films. The photooxidation of ethanol was slower on the photocatalyst/polymer nanocomposites, but it could be significantly improved by irradiating them with UV light. The photoaging was applied as a post-preparation treatment to improve the photocatalytic activity of the nanocomposite films. Changed surface morphology and the partial destruction of the polymer were supported by AFM and FTIR results. Contact angle measurements were used to determine the surface free energies of the prepared and the photoaged nanocomposite films.