11.07.2021 | Original Research Article | Ausgabe 10/2021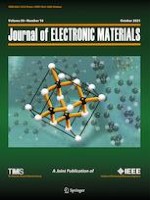 Photochemical Deposition of Ag, Cu, Cu@Ag, and Ag@Cu on TiO2 Nanotubes and their Optical Properties and Photoelectrochemical Activity
Zeitschrift:
Autoren:

Mohamad Mohsen Momeni, Parisa Zeinali
Wichtige Hinweise
Publisher's Note
Springer Nature remains neutral with regard to jurisdictional claims in published maps and institutional affiliations.
Abstract
A combined electrochemical anodization and ultraviolet light-assisted photochemical preparation technique has been used to prepare Cu/TiO2, Ag/TiO2, Cu@Ag/TiO2, and Ag@Cu/TiO2 nanotubes. X-ray diffraction (XRD) and scanning electron microscopy (SEM) with energy-dispersive spectroscopy (EDS) were used to systematically characterize the crystalline phase and morphology, respectively, of the prepared nanotube films. The optical absorption properties of the samples were also studied using ultraviolet-visible (UV-Vis) absorption spectroscopy. The photoelectrochemical activity and photocathodic protection properties of 403 stainless steel were investigated using photogenerated open circuit potential, photogenerated current density, Tafel curves, and J-V curves. The effects of the type of particles deposited and the deposition sequence on their photocathodic protection properties were also studied. According to the results, the morphology and photoelectrochemical and photocathodic protection properties of the prepared samples are affected by the photodeposition sequence of the particles. The results also show that photodeposited TiO2 nanotubes enhance the light absorption and photoelectrochemical properties under light illumination, thus greatly increasing the photocurrent density of the Cu/TiO2 and Ag/TiO2 nanotubes in comparison with bare TiO2 nanotubes. In addition, the photogenerated potential drop of the photodeposited TiO2 was greater than that of bare TiO2. The open circuit potential (OCP) values of 403SS coupled with Cu/TiO2, Ag/TiO2, Cu@Ag/TiO2, and Ag@Cu/TiO2 under irradiation were −695 mV, −665 mV, −594 mV, and −574 mV, respectively. Silver- and copper-photodeposited TiO2 nanotubes can be applied as new photoanode materials to provide good photogenerated cathodic protection for metals under light illumination.