18.05.2018 | Original Paper | Ausgabe 7/2018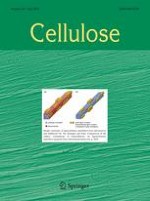 Photoinduced synthesis of gold nanoparticle–bacterial cellulose nanocomposite and its application for in-situ detection of trace concentration of dyes in textile and paper
Zeitschrift:
Autoren:

Xu Zhou, Zihui Zhao, Ying He, Yong Ye, Ji Zhou, Jin Zhang, Quan Ouyang, Bin Tang, Xungai Wang
Wichtige Hinweise
Electronic supplementary material
Abstract
Nanocomposites consisting of bacterial cellulose (BC) and gold nanoparticles (AuNPs) were successfully fabricated using a facile one-step photoinduction method. Well-dispersed AuNPs were in-situ synthesized on the network of BC hydrogels in the presence of tetrachloroauric (III) acid solution under a xenon light source. BCs were treated with different concentrations of gold ions. The optical features and morphologies of the treated BCs were investigated by ultraviolet–visible absorption spectroscopy and scanning electron microscope. X-ray diffraction and X-ray photoelectron spectroscopy were also employed to characterize the AuNP–BC nanocomposites. The experimental results demonstrate that AuNPs are uniformly dispersed and well-bound to the BC matrix, and the three dimensional porous structure of BC is sustained. The acid condition facilitates the synthesis of AuNPs by using BC in aqueous solution. The AuNP–BC hydrogels were then dried into a transparent nanopaper and used as the surface enhanced Raman scattering (SERS) substrate. The lowest detectable concentration for Rhodamine 6G could be achieved at 0.1 nM. Furthermore, by stamping the nanopaper on a yarn or paper, we established an SERS platform for in-situ detection of trace concentration of dyes on the yarn or paper, enabling its application in forensic investigation and art conservation application areas.
Graphical Abstract
×