17.10.2016 | Original Paper: Sol-gel and hybrid materials for optical, photonic and optoelectronic applications | Ausgabe 2/2017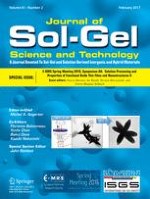 Photoluminescence properties of Gd:ZnO nano phosphor
Zeitschrift:
Autoren:

Suman Rani, Bansi Lal, Sumit Saxena, Shobha Shukla
Abstract
Gd (0.1, 0.5, 1.0 mol%) doped ZnO nano phosphor, prepared by wet chemical method followed by sintering in air at 700 °C, was characterized by XRD, EDX, SEM, and photoluminescence techniques. EDX confirmed the doping of Gd in ZnO, while XRD patterns showed that the ZnO wurtzite crystal structure remained unchanged on doping. Nanostructure nature of the prepared samples was confirmed from XRD data as well as from SEM images. The photoluminescence in visible region (400–700 nm) was observed when excited with 280, 300, 345, 395, and 460 nm radiation from a Xe lamp. The observed emission when excited with 280, 300, and 345 nm radiation shows concentration quenching, which could be explained in terms of 4f–4f transitions of Gd
3+
. The intensity of this emission is maximum for 0.5 mol% Gd:ZnO when excited by 300 nm. The chromaticity coordinates of this emission are
x
 = 0.31 and
y
 = 0.32 indicating its potential for the realization of optical sources/displays. On the other hand the emission excited by 395 and 460 nm radiation consists of relatively sharp peaks in blue, green and red regions. This emission is better explained in terms of the defects in ZnO. However, marginal increase in the intensity of this emission with the increase in the concentration of Gd shows the increase in defect density with Gd doping.
Graphical Abstract
(
a
) Integrated PL intensity as a function of Gd concentration (
b
) Chromaticity color coordinates
x
 = 0.31 and
y
 = 0.32