01.08.2016 | Ausgabe 8/2016 Open Access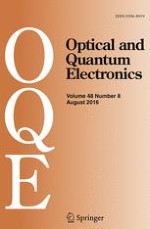 Photoluminescence quenching mechanisms in type II InAs/GaInSb QWs on InAs substrates
Zeitschrift:
Autoren:

M. Dyksik, M. Motyka, M. Kurka, K. Ryczko, M. Dallner, S. Höfling, M. Kamp, G. Sęk, J. Misiewicz
Wichtige Hinweise
This article is part of the Topical Collection on TERA-MIR: Materials, Generation, Detection and Applications.
Guest Edited by Mauro F. Pereira, Anna Wojcik-Jedlinska, Renata Butkute, Trevor Benson, Marian Marciniak and Filip Todorov.
Abstract
Optical properties of AlSb/InAs/GaInSb/InAs/AlSb quantum wells (QWs) grown on an InAs substrate were investigated from the point of view of room temperature emission in the mid- and long-wavelength infrared ranges. By means of two independent techniques of optical spectroscopy, photoreflectance and temperature-dependent photoluminescence, it was proven that the main process limiting the performance of such InAs substrate-based type II structures is related to the escape of carriers from the hole ground state of the QW. Two nonradiative recombination channels were identified. The main process was attributed to holes tunneling to the valence band of the GaAsSb spacing layer and the second one with trapping of holes by native defects located in the same layer.