16.06.2018 | Original Paper | Ausgabe 2/2019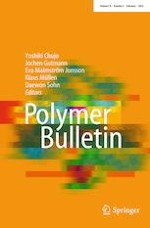 Photophysical properties of new fluorene-based conjugated polymers containing polyphenylene-substituted dendronized core
Zeitschrift:
Autoren:

Rupashri K. Kadu, Pramod B. Thakur, Vishwanath R. Patil
Wichtige Hinweise
Electronic supplementary material
Abstract
Rapid synthesis of new fluorene-based conjugated polymers
P1
–
P8
is reported by polymerization of polyphenylene-substituted dendronized monomer 2,7-dibromo-9,9-di(4-(2,3,4,5-tetraphenylphenyl)-benzyl) fluorene (
M1)
and 2,7-dibromo-9,9-di(4-pentaphenylphenyl)-benzyl) fluorene (
M2)
with different 9,9-disubstituted 2,7-dibromo fluorene monomers (
M3
–
M6)
under microwave irradiation. The structure of these synthesized polymers
P1
–
P8
was established by FTIR,
1
H NMR,
13
C NMR, and gel permeation chromatography techniques. The photophysical studies of these polymers
P1
–
P8
shows good results desirable for light-emitting material. These polymers exhibited UV–Vis absorption peak with the maxima in 344–386 nm in THF solution. Similarly, the fluorescence spectra of these polymers showed PL maxima in 414–418 nm with shoulder peak in 437–440 nm. From this study, the stoke shifts was observed in 30–73 nm, and quantum efficiency was found in 0.41–0.57. Polymers had thermal stability up to 200 °C; however, for dihexyl-substituted dendronized polymer,
P1
and
P5
showed thermal decomposition at 490 and 430
°
C, respectively. In addition to this, polymers
P1
–
P8
were also analyzed by electrochemical study in which the onset of the irreversible oxidation wave of dendronized polymers
P1
–
P8
is recorded in the range of 0.88–0.99 V. The results of these various studies showed that the synthesized polymers
P1
–
P8
can be promising materials for blue-light-emitting diodes because of their high photoluminescence (PL), quantum efficiencies, and thermal stability.