01.02.2011 | Originals Originalarbeiten | Ausgabe 1/2011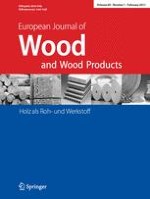 Physical and mechanical properties of oriented strand lumber made from an Asian bamboo (
Dendrocalamus asper

Backer)
Zeitschrift:
Autoren:

Pannipa Malanit, Marius C. Barbu, Arno Frühwald
Abstract
The study was conducted to determine the physical and mechanical properties as follows: modulus of rupture, modulus of elasticity, internal bond, thickness swelling and water absorption of oriented strand lumber (OSL) made from the Asian bamboo
Dendrocalamus asper
Backer. Thirty-six lab boards were produced from these bamboo strands with two manufacturing parameters varying, i.e., four resin types (MF, MUPF, PF, and pMDI) and three levels of resin content (7, 10, and 13%). The results indicate that OSL made from bamboo strands exhibits superior strength properties compared to the commercial products made from wood for the building sector. The resin type has a significant effect on board properties. Moreover, all properties of the board improve generally with increasing resin content. With regard to the internal bond, bamboo-based OSL shows less strength than wood-based boards. The best results were obtained by using 13% pMDI content at 750 kg
\( / \)
m
3
density.