01.04.2014 | Ausgabe 4/2014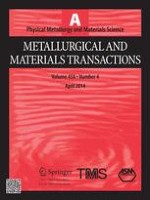 Physical and Structural Characterization of a Monocrystalline Cu-13.7Al-4.2Ni Alloy Subjected to Thermal Cycling Treatments
Zeitschrift:
Autoren:

Elaine Cristina Pereira, Lioudmila Aleksandrovna Matlakhova, Anatoliy Nikolaevich Matlakhov, Carlos Yujiro Shigue, Sérgio Neves Monteiro
Wichtige Hinweise
Manuscript submitted December 18, 2012.
Abstract
A monocrystalline alloy with nominal 82wt pctCu-13.7wt pctAl-4.2wt pctNi composition and exhibiting reversible martensitic transformation (RMT) was subjected to multiple heating and cooling cycles within the RMT range of critical temperatures. Both untreated and cyclic treated alloy samples were characterized by X-ray diffraction, optical microscopy, differential scanning calorimetry, and Vickers microhardness. The results indicated that the alloy presents a complex RMT behavior disclosing a sequence of transformation steps:
β
1
↔ R and R ↔
β
′
1
+
γ
′
1
as well as possible
β
1
↔
β
′
1
and
β
′
1
↔
γ
′
1
direct reactions. The thermal cycling treatment inhibits the development of
γ
′
1
martensite without much change in both the physical and microstructure characteristics. This suggests a good resistance of the alloy to irreversible structural changes.