01.09.2014 | Original Article | Ausgabe 3/2014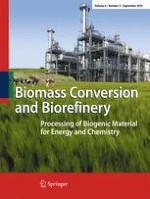 Physical characterization and comparison of biodiesel produced from edible and non-edible oils of
Madhuca indica

(mahua),

Pongamia pinnata

(karanja), and

Sesamum indicum

(til) plant oilseeds
Zeitschrift:
Autoren:

Kshipra Gautam, N. C. Gupta, D. K. Sharma
Abstract
Increase in anthropogenic energy needs has led the world to look for alternate energy sources. Biodiesel from plant oilseeds is a promising and environmentally sustainable option. In the present study, biodiesel is prepared from the oils of
Pongamia pinnata
(karanja),
Madhuca indica
(mahua), and
Sesamum indicum
(til) oilseeds. A two-step catalytic process is used for the conversion of triacylglycerides into fatty acid methyl esters. The biodiesel produced from the three oils were tested for properties such as density, viscosity, calorific value, acid value, cloud point, pour point, fire point, flash point, cold filter plugging point, thermal gravimetric analysis, and differential scanning calorimetry. It was found that til oil produced maximum amount of biodiesel followed by karanja and mahua oil. Interestingly, the calorific value of til biodiesel was highest followed by mahua and karanja biodiesel. However, blending of biodiesel with conventional diesel fuel could improve the calorific value and increase the fire and flash point rendering it safer for handling and transportation. Comparing the properties of the biodiesels, it could be concluded that all the three oils can produce good quality biodiesel; however, they exhibit variable properties for engine application.