2018 | OriginalPaper | Buchkapitel
2. Physical, Chemical and Biochemical Biosensors to Detect Pathogens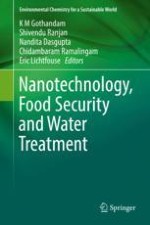 Erstes Kapitel lesen
Autoren: Brindha J, Kaushik Chanda, Balamurali MM
Abstract
The development of science and technology has not only improved the comfort of humans but also added a wide variety of hazardous chemicals and life threatening pathogens into the living environment. Surveillance of bacterial pathogens is a daunting task for healthcare industries, food industries and environmental quality control sectors. During the past few decades, pathogens with high virulence have emerged, leading to steady increase in the mortality and morbidity rates, posing burden on the nation's economy. Therefore it becomes necessary to develop devices that can quickly sense pathogens in quantities much lower than pico- and femto-moles. A ideal sensor has short sensing time, low measurable quantities and reliable results.
In this chapter we discuss various types of biosensors for pathogen detection. Optical biosensors have been explored extensively and used as labeled (fluorophores, quantum dots, carbon dots), label free (surface plasmon resonance) and hybrid biosensors for a highly sensitive pathogen detection. Piezoelectric-cantilever biosensors are simple, rapid and as effective as conventional pathogen detection techniques and are notable for detection of food pathogens like
Listeria monocytogenes.
Successful electrochemical biosensors have also been developed with unmodified electrodes and later electrodes were modified with bio-recognition elements such as specific DNA, antibodies or nanoparticles, for detection of pathogens like methicillin resistant
Staphylococcus aureus
and
Salmonella
. Almost all biosensors, including immunosensors, are being improved, by sample enrichment or signal amplification, in order to obtain a simple and rapid pathogen detection tool with lower limits of detection.