2016 | OriginalPaper | Buchkapitel
1. Physical Principles of Force–Distance Curves by Atomic Force Microscopy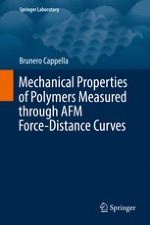 Autor: Brunero Cappella
Abstract
The atomic force microscope (AFM) is increasingly employed not only to acquire topography images of samples but also to measure force–distance curves. Such curves, beyond playing a major role in the theoretical study of surface interactions, are meanwhile a fundamental tool in surface science, nanotechnology, biology and many other fields of research.
Force–distance curves find their application in the study of numerous material properties, such as mechanical properties, surface charge densities, adhesion and Hamaker constants.
One of the most important applications of AFM force–distance curves is the study of mechanical properties of polymers. Compared to other instruments, the AFM has in this case two major advantages. First of all, elastic moduli of samples can be measured with high resolution from some GPa down to some MPa, which is the range of the elastic moduli of common polymers. Second, force–distance curves can be acquired in an array over the sample. This is a fundamental tool for the characterization of the lateral variation of sample properties and hence for the study of confined polymers and polymer blends.
The first part of this book is divided in two chapters dealing with the theoretical and practical aspects of force–distance curves. Theoretical aspects, handled in this chapter, are focused on mechanical properties of polymers.