09.01.2017 | Original Paper | Ausgabe 7/2017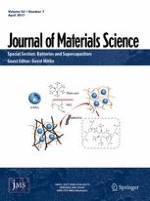 Physicochemical properties and biological behavior of injectable crosslinked hydrogels composed of pullulan and recombinant human-like collagen
Zeitschrift:
Autoren:

Xiaoxuan Ma, Le Zhang, Daidi Fan, Wenjiao Xue, Chenhui Zhu, Xian Li, Yannan Liu, Wan Liu, Pei Ma, Ya Wang
Wichtige Hinweise
Xiaoxuan Ma and Le Zhang contributed equally to this work and should be considered co-first authors.
Abstract
Injectable hydrogels have become a hot topic of research in tissue engineering field, with broad application prospects. In this paper, recombinant human-like collagen (HLC) and three different kinds of high molecular weight pullulan (P), crosslinked with 1,2,7,8-diepoxyoctane (DEO), were synthesized in a water bath. Pullulan/1,2,7,8-diepoxyoctane (PD) and pullulan human-like collagen/1,2,7,8-diepoxyoctane (PHD) hydrogels, with high crosslinking density, injectability, thermal stability, and biocompatibility were synthesized. According to hypothesis, the biocompatibility and biodegradability of PHD hydrogels was better than PD hydrogels and PHD hydrogels served as ideal filler biomaterials in tissue engineering. Physicochemical properties such as swelling ratio, elastic modulus, thermal stability, porosity, and rheological features of these hydrogels were studied. Results showed that an increase in the molecular weight of pullulan and the amount of added HLC enhanced its mechanical properties. However, it showed little influence on its thermal stability, since pullulan and HLC themselves were thermally stable. Acute toxicity test, hemolysis test, and L929 cell 3-[4,5-dimethylthiazol-2-yl]-2,5-diphenyl tetrazolium bromide assay (MTT) were employed for testing the toxicity and cytocompatibility. The cell attachment in vitro and biocompatibility in vivo were also investigated. The MTT and live/dead cell viability staining results demonstrated that PDH was less cytotoxic than PD due to the promotion of the L929 proliferation. In vitro degradation results indicated that the hydrogels had prolonged degradation times and excellent anti-enzymatic abilities. Subcutaneous injection of PDH hydrogel in rabbit showed a lower inflammatory response after 1, 2, and 8 weeks, and the hydrogels showed almost no obvious degradation in two months. Thus, the hydrogel had a great potential to be used as ideal filler biomaterial in tissue engineering.