29.11.2019 | Ausgabe 2/2020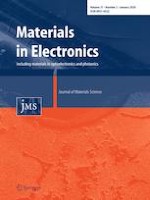 Physicochemical properties of La3+-doped TiO2 monolith prepared by sol–gel approach: application to adsorption and solar photodegradation of ibuprofen
Autoren:

Abderraouf Jraba, Zohra Anna, Elimame Elaloui
Wichtige Hinweise
Electronic supplementary material
Publisher's Note
Springer Nature remains neutral with regard to jurisdictional claims in published maps and institutional affiliations.
Abstract
This study investigated the adsorption and photocatalytic performance of La
3+
-doped titanium dioxide for the removal of drug contaminants from wastewater using ibuprofen salt as contaminant model. La
3+
-doped TiO
2
transparent monolith was synthesized by classic sol–gel method. Transparent materials crystallized under anatase form with great thermal stability. Doping of TiO
2
using La
3+
cations increases the specific surface area. Diffuse reflectance spectroscopy characterization of the prepared photocatalysts indicated that La
3+
doping shifts the absorbance spectra of photocatalysts to the visible range. Adsorption modeling indicated that ibuprofen adsorption follows the Langmuir model. Dubinin–Radushkevich model confirms that adsorption of IBPF drug on La
3+
-doped TiO
2
was physic-sorption phenomena. Solar light photocatalytic oxidation of IBPF using
x
% La
3+
–TiO
2
catalysts follows the pseudo-first-order kinetic model. The photocatalytic degradation rate increased with the La
3+
amount in TiO
2
catalysts, which was attributed to the enhanced visible light absorption capacity. The recyclability of catalysts shows that 1 and 2% La–TiO
2
have a good response after ten photodegradation cycles.