2017 | OriginalPaper | Buchkapitel
4. Phytoremediation of Soil Contaminants by the Biodiesel Plant
Jatropha curcas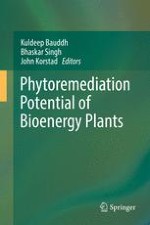 Erstes Kapitel lesen
Autoren: O. P. Abioye, U. J. J. Ijah, S. A. Aransiola
Verlag: Springer Singapore
Abstract
Contamination of soil is prominent among the most critical environmental issues throughout the world, and it has a hugely harmful impact on people, animals, microorganisms, and plants. Organic pollution pollutes the environment because of its innate characteristics—for example, solubility, instability, and biodegradability. Correspondingly, heavy metals pollute the earth and have injurious impacts on the environment and its sectors. Current technology involves soil excavation and either landfilling or soil washing for physical or substance detachment of the contaminants. Although they are highly variable and depend on the contaminants of concern, soil properties, site conditions, etc., the generally huge expenses connected with the removal of metals from soils by conventional physicochemical methods explain why most organizations have a tendency to overlook the problem. The removal of these metals from the environment is thus imperative. Phytoremediation involves treatment of ecological problems (bioremediation) using florae that reduce ecological contamination, avoiding the need to uncover the polluted substances and dispose of them elsewhere. Remediation using plants (phytoremediation) consists of attenuating contaminant concentrations in polluted water, air, or soil with plants that are able to reduce or eliminate metals, pesticides, solvents, crude oil and its derivatives, and heavy metals.
Jatropha curcas
is a widely used plant species, with many advantages for remediation and biodiesel production. In this chapter, the phytoremediation method using the biodiesel plant
Jatropha curcas
for remediation of contaminated soil is examined, along with its effectiveness and efficiency.