2017 | OriginalPaper | Buchkapitel
8. Phytoremediation Potential of Industrially Important and Biofuel Plants:
Azadirachta indica

and

Acacia nilotica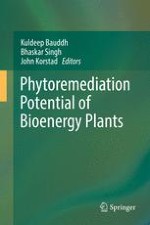 Erstes Kapitel lesen
Autoren: Jaya Tiwari, Atul Kumar, Narendra Kumar
Verlag: Springer Singapore
Abstract
A huge gap between demand and supply of energy, soil contamination with heavy metals, radionuclides, pesticides and other harmful chemicals, degradation of soil due to salinity/sodicity, acidity, soil erosion and decrease in soil microbial diversity, etc. are some great challenges of the twenty-first century. Subsequently, there is an undisputable need to create viable option for economical and sustainable remediation of the polluted soils. Phytoremediation as a strategy to solve environmental defilement has been quickly accepted on the grounds because it is energy efficient, financially savvy and satisfying procedure for the remediation of polluted sites; furthermore it is relevant to a wide scope of contaminants, including heavy metals and radionuclides, and additionally organic solvents like chlorinated solvents, polycyclic aromatic hydrocarbons, pesticides/insecticide, explosives and surfactants. Phytoremediation of a contaminated soil becomes a 'win–win' strategy if it is done with such plant species which are not only efficient in removing the pollutants but also have industrial application and generate large amount of biomass in form of food, fodder and biofuel. Therefore, the present study comprehensively reviewed the above-mentioned quality of
Azadirachta indica
and
Acacia nilotica
and also compared the fuel efficiency of both the plants. It was found that
Azadirachta indica
and
Acacia nilotica
both have phytoremediation capability in soil and water medium along with tremendous medicinal and therapeutic properties. The biodiesel derived from both the tree species is energy efficient and meets the requirement of international standards.