2017 | OriginalPaper | Buchkapitel
7. Phytoremediation Potential of
Leucaena leucocephala

(Lam.) de Wit. for Heavy Metal-Polluted and Heavy Metal-Degraded Environments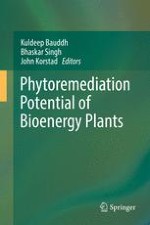 Erstes Kapitel lesen
Autoren: Jamilu Edrisa Ssenku, Muhammad Ntale, Ingvar Backeus, H. Oryem-Origa
Verlag: Springer Singapore
Abstract
Regeneration of heavy metal-polluted and heavy metal-degraded sites has remained a global challenge despite the existence of numerous conventional physico-chemical techniques that can be applied. In view of the large size of the degraded areas and the cost implications, the application of the inexpensive "green" and sustainable technique of phytoremediation is unrivalled by any other possible alternative techniques. However, its effectiveness is largely dependent on judicious selection of the plant to be used. We thus assessed the suitability of
Leucaena leucocephala
for phytoremediation of heavy metal-polluted and heavy metal-degraded sites.
L. leucocephala
has numerous inherent characteristics that can be exploited to augment phytoremediation and lower the cost of regeneration. The species can survive in harsh environmental conditions with the exception of heavily frosted conditions and occurs in a wide range of ecological settings. The species is fast growing, capable of reaching maturity in 6 to 7 months to produce a vast amount of seeds that can germinate into numerous seedlings to carry on further remediation of the polluted site. It can produce large quantities of phytomass that can accumulate heavy metals and can repeatedly be harvested to regenerate a polluted area through phytoextraction. Heavy metal-laden phytomass of
L. leucocephala
moulds into furniture and is used for construction to preclude contamination at the site of use. It is excellent on coppicing, thus eliminating the costs of replanting during the phytoremediation programme. The species is endowed with high proficiency for nitrogen fixation through nodule formation and can substantially revitalize microbial mass and micro-bioactivities to pave way for re-establishment of self-sustaining plant communities over the polluted sites. Its flexibility to nodulate with rhizobia of other legumes and its rhizobia to nodulate with other legumes could optimize nitrogen content revitalization of the polluted soils. However, the species is invasive and could be adopted under stringent measures to avoid its spread. It is also very palatable to animals and may thus be of limited application in the phytoremediation of areas accessible to animals. Suitability of the species in heavily polluted areas is minimal as many of the inherent characteristics may not fully be expressed.