01.08.2011 | Originals Originalarbeiten | Ausgabe 3/2011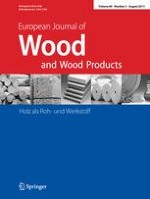 Pine heartwood and glass surfaces: easy method to test the fate of bacterial contamination
Zeitschrift:
Autoren:

Tiina Vainio-Kaila, Aino Kyyhkynen, Pertti Viitaniemi, Anja Siitonen
Abstract
The survival of two bacteria,
Escherichia coli
and
Listeria monocytogenes
was observed on pine heartwood and glass surfaces by using a simple test method. The development of the number of bacterial cells was evaluated by titration after vortexing the samples in BHI broth and culturing the resulting broth on agar plates. The bacterial count decreased clearly faster on pine heartwood than on glass surfaces. This result was confirmed by studying the wooden samples also one day after to exclude possible adherence of the bacterial cells on the porous surface. This study confirms the results of several other studies that suggest wood to have antibacterial properties.