03.05.2018 | Chemical routes to materials | Ausgabe 15/2018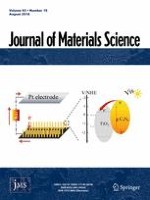 PLA degradation pathway obtained from direct polycondensation of 2-hydroxypropanoic acid using different chain extenders
Zeitschrift:
Autoren:

C. A. Ramírez-Herrera, A. I. Flores-Vela, A. M. Torres-Huerta, M. A. Domínguez-Crespo, D. Palma-Ramírez
Wichtige Hinweise
Electronic supplementary material
Abstract
This work is focused on the structural, thermal and mechanical studies of direct polycondensation of poly (lactic acid) (PLA) modified with three different chain extenders (1,3-phenylene-bis-2-oxazoline, PBO; pyromellitic dianhydride, PMDA; and 1,1′-carbonyl bis caprolactam, CBC). Three concentrations of PBO, PMDA and CBC chain extenders (0.2, 0.5 and 1 wt%) were added during three stages (S): monomer dehydration (80 °C, S1), oligomer polycondensation (130 °C, S2) and melt polycondensation (160 °C, S3). FTIR, Raman and
1
H-NMR spectroscopies revealed the presence of signals produced by interactions between OH and C=O end groups of PLA and reactive functional groups of chain extenders. It was found that the interaction with the PMDA chain extender decreased the PLA crystallinity. Furthermore, data from thermal analysis revealed that the interaction between PLA and chain extenders increased the chain mobility, which represented a decrease in its
T
g
. Enhanced mechanical properties, hardness, elastic modulus and indentation creep were observed with the addition of chain extenders, improving the performance with the addition of 1 wt% of PBO at S3, 1 wt% of PMDA at either S2 or S3 and 0.25 wt% of CBC at either S2 or S3. Additionally to the synthesis, the degradation was mainly influenced by the interaction more than by any specific stage of chain extender addition. Finally, the thermal and structural characterizations revealed that the PLA-PBO, PLA-PMDA and PLA-CBC systems were more resistant than PLA to UV light and humidity during the accelerated weathering test.