2006 | OriginalPaper | Buchkapitel
Planning and Optimization of Maneuver Strategy of Large Flexible Space Structures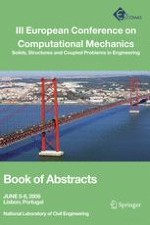 Erstes Kapitel lesen
Autor: Evtim V. Zahariev
Verlag: Springer Netherlands
The nowadays space missions are implement by large lightweight structures which flexibility causes significant influence over the mission from launching till landing. Space ships, stations and satellites caring large flexible devices, for example, long booms, tethered satellites, solar arrays, antennae and many others implement complex motion in space. The reliable dynamic model and preliminary analysis of the tasks, as well as, of the possible scenarios and casual events are the preconditions for the mission success. Major undesirable phenomena are the large flexible deviations and vibrations exaggerated because of implementation of deployment, folding, maneuvers, etc. Planning of motion strategies for minimization and passive and active damping of flexible deviations and vibrations is of crucial importance.
Solution of these problems is a challenging realm for scientific investigations [
1
]. The concepts developed are based on the modal and eigenvale analysis of the flexible systems. This approach considers small deviations around the equilibrium position and very often it is inapplicable for extremely large flexible systems. Large flexible deflections and vibrations are subject of the contemporary multibody system investigations [
2
]. The present paper regards the problems of path planning and optimization of maneuver motion of large space flexible structures as long booms and tethered satellites. The approach is based on the multibody system methodology for dynamics simulation and forward analysis. The optimization problem is defined as nonlinear programming problem. Polynomial approximation of the input motion is used, its coefficient being changed using optimization techniques. The principle for minimization of the total energy of the deformable system is applied in an algorithm for planning of controlled motion and suppression of flexible deviations. Admissible velocities of the maneuvers are estimated. The process of exaggeration of high order vibrations is analyzed. Examples of maneuver implementation of extremely flexible structures and damping of vibrations are presented.