2017 | OriginalPaper | Buchkapitel
4. Planning Ashfield, Greater Sydney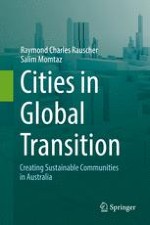 Erstes Kapitel lesen
Autoren: Raymond Charles Rauscher, Salim Momtaz
Abstract
The chapter addresses the extent Ashfield Council (herein referred to as Ashfield) is applying sustainable urban planning (SUP) practices (see Chap.
1
) in planning the municipal area. The chapter acknowledges the
Local Government (Council Amalgamations) Proclamation 2016
merging Ashfield, Marrickville with Leichhardt councils noted in Chap.
2
). Ashfield (in Sydney Inner West District) is one of twelve municipalities within three Greater Sydney Districts (Sydney Inner West, Greater Parramatta and St George), all considered to be in global transition (see Chap.
2
). Examining SUP practices is based on the application of three key SUP principles (as adopted in Chap.
2
), being: Developing Sustainable Urban Centers; Developing Sustainable Transport; and, Protecting the Natural Environment.
Firstly, a background to Ashfield development and population changes (e.g. global movement of population) is outlined. To examine the pattern of urban development, four phases of Ashfield development are examined: Early Ashfield; Traditional Ashfield; New Ashfield; and, Future Ashfield. Given conclusions reached here, key Ashfield Council planning documents are then critiqued to determine the extent Council applies SUP practices. In addition, given State planning of Greater Sydney affects Ashfield, a second question is posed: what is the impact of Greater Sydney planning and development on Ashfield? In examining this question, examples of State plans (including council amalgamations under the Proclamation noted above) likely to affect Ashfield are addressed. By chapter's end, conclusions are drawn on Council planning and impact of Greater Sydney planning on Ashfield. The chapter notes that these conclusions will be addressed further in: Chap.
9
(examining the extent of SUP practices being applied over the whole of Sydney Inner West District); and, Chap.
18
(examining directions for planning a sustainable Greater Sydney or a sustainable city anywhere).