2017 | OriginalPaper | Buchkapitel
2. Planning Greater Sydney and Sydney Districts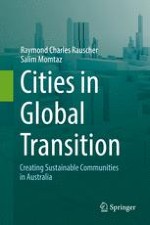 Erstes Kapitel lesen
Autoren: Raymond Charles Rauscher, Salim Momtaz
Abstract
In this chapter a methodology for evaluating the extent of sustainable urban planning (SUP) practices being applied at municipal and district (groups of municipalities) levels is outlined. The chapter commences with an introduction to the planning of Greater Sydney. Three case study districts are nominated, being: Sydney Inner West; Greater Parramatta; and, St George. A methodology is adopted for assessing the extent each municipality within the three districts is applying SUP practices (as outlined in Chap.
1
). Key planning principles are then adopted and an outline given on how these principles will be applied to case study districts (and municipalities within). These principles are: (1) Developing Sustainable Urban Centers; (2) Developing Sustainable Transport; and, (3) Protecting the Natural Environment. The process of State initiated local government reform and council amalgamations (given connections to planning Greater Sydney) are also reviewed at this stage. Finally, the chapter notes that conclusions reached in examining the selected districts (and municipalities within) will be used in the final chapter (Chap.
18
). That chapter considers Greater Sydney planning reforms that are needed for municipal and district planning to ensure a sustainable Greater Sydney in the future. Finally, understanding these reforms for Greater Sydney, this final chapter will also comment on the means of achieving a sustainable city anywhere in the world.