2013 | OriginalPaper | Buchkapitel
1. "Plant Cell Wall Structure-Pretreatment" the Critical Relationship in Biomass Conversion to Fermentable Sugars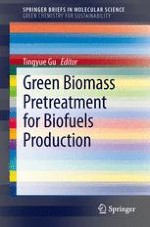 Autor: Ahmed Faik
Verlag: Springer Netherlands
Abstract
One of the targeted research areas in implementing alternative renewable energy production is the improvement of the yield and quality of plant biomass, which consists mostly of plant cell walls (called lignocellulosic biomass). Sugars from plant biomass can be used to produce bioethanol through fermentation, but can also be used to make other hydrocarbons via direct pyrolysis or gasification. However, the conversion of lignocellulosic biomass to fermentable sugars is far from optimal due to the lack of efficient pretreatment processes, simply because the exact composition and the manner in which different cell wall components interact between each other strongly influence energy recovery. Pretreatment techniques can be grouped into three distinct categories:
physical
(mechanical),
biological
, and
chemical pretreatments
. Currently, pretreatment step is the most costly step in the whole process of biofuel production, and there is a positive correlation between cell walls recalcitrance and the costs in biofuel production. Because there are many different kinds of plant biomass, no single pretreatment method is expected to be the preferred universal choice. Furthermore, there is recurring debate about "food or fuel" balance, and the emerging picture from this debate is that there is a need for domestication of several feedstock crops, because none of the current available feedstock crops have all the requirements to balance our food and fuel needs. The ultimate goal is to elucidate the key structural elements of lignocellulosic biomass that would allow a balance between biofuel production, carbon sequestration, and land management. This chapter will describe the composition and structural aspects of plant cell walls found in plant biomasses, and their impact on pretreatment of biomass.