2020 | OriginalPaper | Buchkapitel
Plant Diversity and Distribution Pattern in Tropical Dry Deciduous Forest of Eastern Ghats, India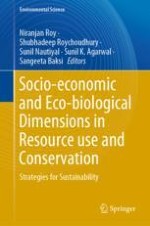 Erstes Kapitel lesen
Autoren: Durai Sanjay Gandhi, Somaiah Sundarapandian
Abstract
Vegetation of a tropical dry deciduous forest of Sathanur reserve forest, Eastern Ghats, India was analyzed by laying 30 square plots (1 ha). A total of 210 plant species (75 trees and herbs, 27 shrubs and 33 climbers) were enumerated. Species richness ranged 35–84/ha. The number of tree, shrub, herb and climber species in plots varied from 7–28/ha, 5–14/0.125 ha, 10–36/50 m
2
and 3–23/0.125 ha respectively. The basal area of trees ranged 7.23–43.05 m
2
/ha. Shannon's index ranged from 0.716 to 2.343 for tree species.
Albizia amara
was the dominant tree species except for plot nos. 24 and 25, where
Chloroxylon swietenia
was dominant. In shrub community,
Lantana camara
and
Clausena heptaphylla
were the dominant species.
Sida cordifolia
and
Ageratum conyzoides
were the most abundant species in the herbaceous community. In climbers,
Pterolobium hexapetalum
was the dominant species. The dominance of ruderal weeds and exotics in the understory indicates that this forest is under the threat of anthropogenic pressure although it has been declared as a reserve forest. The present study reveals that differences in microclimate, level and kind of anthropogenic perturbation, and edaphic characteristics among the plots could be the reason for the significant spatial variation in species richness and density among the plots even though they are located within 10 km radius. However, this forest ecosystem restores rich flora similar to other tropical dry forests in India and elsewhere. To impede the plant invasion, timely measures are to be adopted to eliminate invasive species in order to retain and conserve the native diversity.