2017 | OriginalPaper | Buchkapitel
Plasma Bonding of Plastic Films and Applications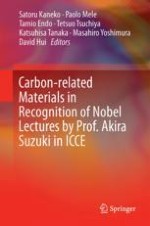 Erstes Kapitel lesen
Autoren: Kenichi Uehara, Lakshmi Reddy, Hiroaki Nishikawa, Satoru Kaneko, Yoshinobu Nakamura, Kazuhiro Endo, Paolo Mele, David Hui, Rieko Sudo, Tamio Endo
Abstract
This article reviews "plasma bonding" of plastic films. Polyethylene terephthalate (PET) films can be bonded directly by oxygen plasma irradiation and heat-press at low temperatures of 100–160 °C. Functional groups of COOH and OH are detected on the irradiated surface. The irradiated films are kept in the atmosphere for 6 years, yet they can be bonded tightly. The irradiated surface is extremely active just after the irradiation, and it is still considerably active after 5 years.
Dry- and wet-peel tests on the bonded films suggest that there are two elements, hydrogen bonding and chemical bonding. The films are bonded weakly by these two elements at lower press temperatures because of the major hydrogen bonding, while they are bonded strongly at higher press temperatures because of the major chemical bonding. The hydrogen bonding is broken by water penetration into the interface, causing smaller peel strength under the wet-peel test.
FTIR results on the non-irradiated, irradiated, and bonded samples indicate that the COOH and OH groups are created at the irradiated surface, and they are responsible for the both of hydrogen and chemical bondings. The OH is consumed during the heat-press bonding; then dehydrated condensation reaction can be proposed for the chemical bonding. Cross-linking layer may be the origin for the long lifetime of the irradiated active surface.
The irradiated films are soaked in various liquids, but they do not lose the plasma effects and bonding ability. Only the films soaked in AlCl3 and FeCl3 solutions lose the bonding ability. Then we can keep the irradiated films in the atmosphere without special cares.
It is mentioned on feasible applications of laminated plastic films for back-sheets in solar cell and insulator sheets in EV motor.