01.08.2020 | ORIGINAL ARTICLE | Ausgabe 6/2020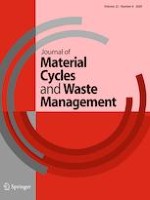 Plasma pyrolysis feasibility study of spent petrochemical catalyst wastes to hydrogen production
Zeitschrift:
Autoren:

Hanieh Karimi, Mohammad Reza Khani, Mahtab Gharibi, Hamed Mahdikia, Babak Shokri
Wichtige Hinweise
Publisher's Note
Springer Nature remains neutral with regard to jurisdictional claims in published maps and institutional affiliations.
Abstract
Spent petrochemical catalysts are hazardous toxic wastes and dangerous to the environment and human health, due to heavy metals, coke, and other poisonous elements. Researchers over the years focus to utilize and handle the spent catalysts waste to produce other valuable products as an attractive option from environmental and economic points of view. This article generally discusses feasible methods to convert spent petrochemical waste catalysts to value-added products using a thermal plasma torch for the first time. The arc temperature which increases with power increase was measured by optical emission spectroscopy (OES). The result reveals that no spent catalyst waste remains after plasma pyrolysis process and conversion is completely feasible. Furthermore, the major product H2 for fuel cell was produced, that is environmentally and economically beneficial. Methane, ethane, ethylene, and isobutane were the main products. The best plasma effect on the spent petrochemical catalyst waste in terms of the maximum hydrogen production rate was obtained at 140 A, 30 V, and 3 cc feed injection which causes to produce 53.2% H2.